welcome to Providence South clinical associates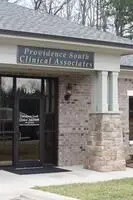 We are committed to supporting the health and safety of our community through CDC-recommended office protocols and HIPAA-compliant Teletherapy (audio/virtual) services. For fastest response, please contact the provider of your choice directly (contact us).
Please Note: Availability varies with providers. The best way to get more information about a specific provider's availability, scheduling, and fees is to contact her/him directly, as listed below. We look forward to hearing from you!
Providence South Clinical Associates is a collaborative community of independent mental health and integrative primary care providers. We specialize in treating a wide range of clinical and health concerns, including childhood/adult trauma, attention problems, mood disorders, anxiety, life transitions, addictions, relationship troubles, family/parenting concerns, grief/loss issues and more. All providers handle their own scheduling. Click below for more info and to contact individual providers.
Dionysios Kakouras, LCSW, LCAS (Kakouras Family Counseling, PLLC), 704-243-0326,[email protected]
Melissa Magee-Kakouras, LCSW (Kakouras Family Counseling, PLLC), 704-560-4918, [email protected]
Allison McLaurin, MEd, NCC, LCMHC (Unearthed Counseling, PLLC), 980-209-2296, [email protected]

Connie Perkins, LCSW, LISW-CP (Perkins Counseling & Consulting), 980-349-6606, [email protected]

Melissa Ratliff, MD (Ratliff Integrative Medicine), (704) 443-8530, [email protected]
Aldi Gaines, LCMHC, LAC, MS, NCC (Gaines Therapy, PLLC), 704-672-4655 x2, [email protected]
Shavonda Bean, LPA (Essential Assessments & Behavioral Health), 980-939-5099, [email protected]
M. William Futtersak, Ph.D., 704-589-1175 (call or text) or [email protected]
Jenny Pierre-Renville, NCC, LCMHCA (LifePath Holistic Counseling), 704-899-1555, [email protected]
Malissa Truesdale-Crawford, LMHCA, MA, GCDF, 980-315-5834 or 980-368-0323, [email protected]