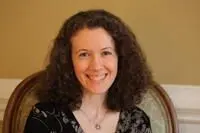 Melissa, in her own words:
"I'm curious about most everything, so my approach to therapy continues to evolve as I learn more about the ways we humans work—brain-wise, emotions-wise, and otherwise. Earlier training in art helped me to hone a creative mindset, and I enjoy helping children express their emotions through art and play therapy. Studies in developmental psychology (with The Neufeld Institute) are ongoing, and Dr. Neufeld's work has been a major influence on my practice and in my personal life. While I'm trained in evidence-based treatments that include Cognitive Behavioral Therapy (CBT), Solution Focused Therapy, and Trauma-Focused CBT, I recognize there's more to successful therapy than relying on a script or manual. I've also found that over-attention to behavior often misses the boat; there's always an emotional need driving 'problem' behaviors that needs attention in its own right.
"The client-therapist relationship is crucial, and as with any other meaningful relationship in life, a certain degree of connection or what we might call 'chemistry' is critical to positive movement. This is true whether the client is 5 years old, or 45. I view my role in the therapy room primarily as 'facilitator' rather than 'expert.' You're the expert on your own life, after all. But sometimes in the thick of things, one loses perspective and needs an objective observer to point out something missed or suggest a new way of doing things. I've been there myself at times, and have worked with therapists as a client, so I know what it's like to sit in the client chair, so to speak. I also have children of my own, so I understand firsthand the joys and challenges of parenting and the tensions that come up in juggling multiple adult roles. These experiences have deepened my empathy for the struggles of other individuals and families, and provided me valuable insight in supporting and empowering others."
Masters in Social Work, UNC-Chapel Hill, 2007
B.A. in Art, Berry College, 1998
Social Work Licenses: NC - C006451, SC - 13662; Board Certified-TeleMental Health Provider (BC-TMH), 2021

Years in Clinical Practice: 16
Years working with children: 28+
Client Age Range: 4-65
Specialties: Parenting concerns, anxiety and depression, ADHD, behavioral concerns, separation/divorce, trauma/abuse history, adjustment/life transitions
Rates $125 per regular 50-minute session; $150 for intake appointments.
Melissa is in-network with the following plans: Aetna, Blue Cross/Blue Shield, Cigna & United Healthcare/Optum
Direct Contact: 704.560.4918 (phone) or [email protected] (email) For fastest response email request for appointment with age of client, primary reason for appointment, and insurance info.